The Michigan Department of Environmental quality has decided to do away with the emergency sewer pump stations that have been used for over 30 years. At the time, the committee agreed that these relief sewers were the best option for controlling overflows and simultaneously reducing costs.
We all remember last summer's historic rainfall with the August storm bringing Macomb County and its suburbs over 5 inches of rain in one day. If statistics are correct, we won't see the likes of that again. This down pouring was met with huge concerns over raw sewage and the need to take a closer look at Detroit's sewer system and its aging infrastructure. Long past are the days of the first sewer system in Detroit known as 'The Grand Sewer' constructed in 1836. We are up to date and making the necessary adjustments to keep our City moving in the right direction. Perma-Liner has the newest, state of the art trenchless pipelining system available for homeowners. Call us to find out how we can help you with our innovative cured in place pipeline rehabilitation. You can also go online to www.perma-liner.com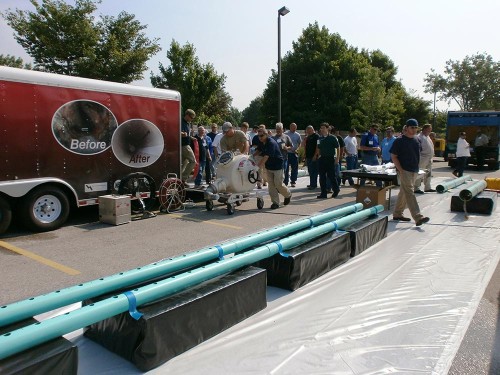 Save the Date!
Mark your calendars because you won't want to miss this! On July 28th-30th Perma-Liner Industries is hosting a very special event and we'd love to see you!! We're having our Open House in the Tampa Bay area and it's sure to be a great time. We'll have our excellent staff here to answer all of your questions about Cured-in-Place Pipeline products and our state of the art trenchless technology. Come out and see live demonstrations, share friendly conversations and gain information. Meals will be provided. Please register at no cost: info@perma-liner.com or 1-866-336-2568. Click Here to Register!