Are you handling the summer rains, Detroit? Here in Michigan we need to be sure that the sump pump at our home is operating as it should. More water means the pump is being maximized making it important to make sure it is functioning at its best. The main purpose of a pump is to move the unwanted water to a municipal storm drain, in most cases. Sump pumps are an effective means to also keep environmental conditions at an optimal level thereby keeping mold, rust and other air pollutants away from your breathing space.
Here are a few suggestions to keep your basement dry:
1. Gutters should be positioned away from foundation so storm water is kept away from the house.
2. During the rainy season sewers can clog and should be inspected.
3. In case a power outage affects the operation of your sump pump, in may be wise to invest in a backup generator.
4. Think about installing a basement window cover that can keep rain and other debris outside where it belongs.
Detroit, did you know Perma-liner Industries has partnered with Thornton and Grooms Plumbing? We use top of the line equipment and products to keep your underground sewer system in tiptop condition. To make sure your pipelines are inspected properly, call or go online to thorntonandgrooms.com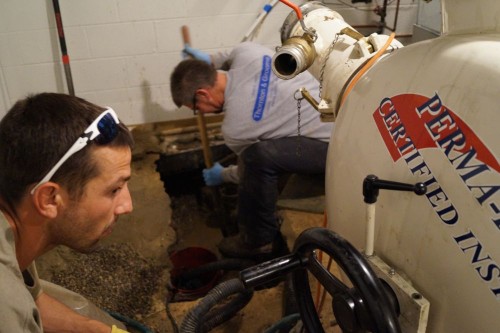 SAVE THE DATE!!
Mark your calendars because you won't want to miss this! On September 15th-17th Perma-Liner Industries is hosting a very special event and we'd love to see you!! We're having our Open House at our facility in Clearwater, FL. and it's sure to be a great time. We'll have our excellent staff here to answer all of your questions about Cured-in-Place Pipeline products and our state of the art trenchless technology. Come out and see live demonstrations, share friendly conversations and gain information. Meals will be provided! Please register at no cost: info@perma-liner.com or 1-866-336-2568. Click Here to Register!